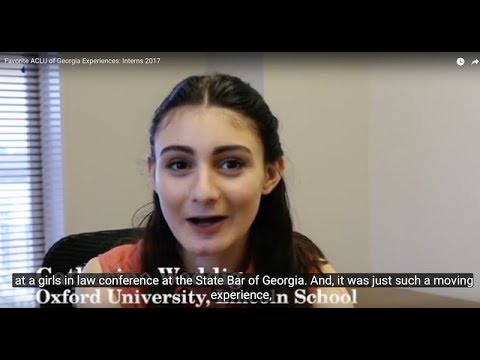 Click the video to hear our Interns Share Their Favorite 
ACLU of Georgia Experiences!
The American Civil Liberties Union of Georgia is a non-profit, public interest legal organization. We handle cases involving violations of the rights guaranteed in the Constitution. We receive more than 300 requests for representation each month. We welcome interns for legal, policy, communications and development work. 
Interns can be from all levels of education: high-school, undergraduate, graduate and post-graduate at schools and universities across the country. Interns seeking school credit are preferred, but all are welcome. 
Summer 2019 interns will be expected to commit at least 15 hours per week (legal interns require at least 10 hours per week). 
Online application period will be open March 1, 2019. Below are samples of internships that may be available.
Legal Intern: Legal interns will be expected to perform legal research, draft legal memoranda, and potentially legal briefs and other documents, and be otherwise available to support the ACLU of Georgia's other activities. The internship is designed for those who are interested in pursuing a career in litigation. Legal interns must be in law school and/or pursuing a JD – students of constitutional law are preferred. Applicants should have strong research, writing, and communication skills and a demonstrated interest in civil liberties and civil rights. 
Smart Justice Intern: Interns in this department will support the work of ACLU of Georgia's Smart Justice campaign through research, direct field action, event coordination and other activities. Interns will be assigned to a variety of roles including database research, assisting with work at the Georgia State Capitol, or working with the Faith and Justice initiative. Applicants should be motivated for criminal justice reform in Georgia and its municipalities. 
 
Community Engagement Intern: Interns in this position will work with the Community Engagement Manager to recruit, train, and maintain volunteers and to get them actively engaged with ACLU of Georgia. Interns will also work to support event creation and coordination, especially events being held at the Georgia State Capitol through legislative session. Interns should have an interest in political engagement and voter rights and must be able to work with people from diverse backgrounds. 
Policy Counsel Intern: Interns in this position will research, analyze and draft policy papers regarding bills proposed in the legislative session and current Georgia laws to make educated and calculated decisions on how they may affect Georgians and whether they strengthen the ACLU of GA agenda. Interns will attend governmental body meetings and interact with elected officials. For Spring 2019, Masters and Doctoral levels students, students with debate experience, or interns with prior experience at the Georgia State Capitol are highly preferred. 
 
Communications Intern: Interns in this position will be responsible for a variety of duties related to communicating the ACLU of Georgia's work to the public. Examples include creating and editing video projects, taking pictures, monitoring press coverage, drafting social media posts, and/or formatting articles and photos for use in printed materials and reports. Interns may also be responsible for some administrative tasks of the Communications Department.
All positions are unpaid. Supervising staff will fulfill reporting requirements to facilitate course credit. Students taking MARTA will be able to have travel reimbursed through dedicated travel funds. 
How to Apply
All applicants must fill out an application. You will be asked to upload a resume and cover letter. 
 
For policy counsel applicants: You will also be asked to offer a writing sample with your application. 
If you have questions, please contact Stephanie Jackson Ali –
sali@acluga.org
.