By CBS46 | June 29, 2018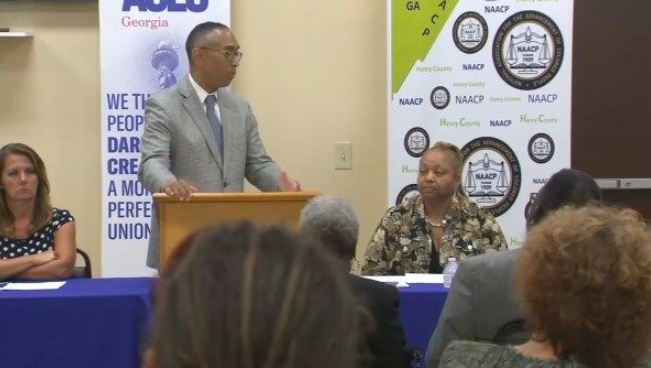 Click here to watch the video at CBS 46.
The disturbing video of former NFL player Desmond Marrow being violently arrested by Henry County officers has reverberated across the country. 
He was accused of road rage at the time of the arrest in December of 2017.
He's seen on video being knocked to the ground by a Henry County officer and choked. That officer was later fired after video surfaced of the incident.
"The video wasn't released until April and so there are some questions about why it took so long for that to be known--for the public to hear about it . What the use of force practices are, specific to Henry County," stated ACLU of Georgia political director, Burrell Ellis.
Leaders with the American Civil Liberties Union of Georgia say they publicly called on Henry County officials to hold a community meeting about policing after the incident. When that did not happen, the ACLU organized its own along with the Henry County Brand of the NAACP, the Georgia Legislative Black Caucus, Game Changers, and Gigi's House.
"The firing of the officer was the right first step to take, but beyond that how do we know that these types of incidences and violent arrests won't continue to happen targeting African Americans, young black men?" Ellis said.
As dozens of Henry County residents filed into the town hall and panel Thursday night at Mt. Olive Baptist Church in Stockbridge, attention quickly turned to the leaders who were noticably absent: Police Chief Mark Amerman and all county commissioners.
"Henry County and a lot of counties are late having this discussion," said panelist Gerald Gigs, an attorney representing Desmond Marrow. "This discussion started with Trayvon Martin. This discussion started with Michael Brown. This conversation should have started with Philando Castile, Alton Sterling...The fact that there is not one county commissioner here tonight is a problem," Griggs added.
"I think the local police have done a great job in terms of dialogue, but tonight would've been a great night for them to be here," said Terrance Gattis, the pastor of Mt. Olive Baptist Church and chaplain for the City of Stockbridge. "I understand that they're not here because of some pending litigation. With that being said, I'll take them at their word for now. With that being said I think we need to do more to have dialogue," he added.
Ellis says they hope to continue the conversation on the state and national level.