By Scott Benson | Ledger-Enquirer | December 18, 2017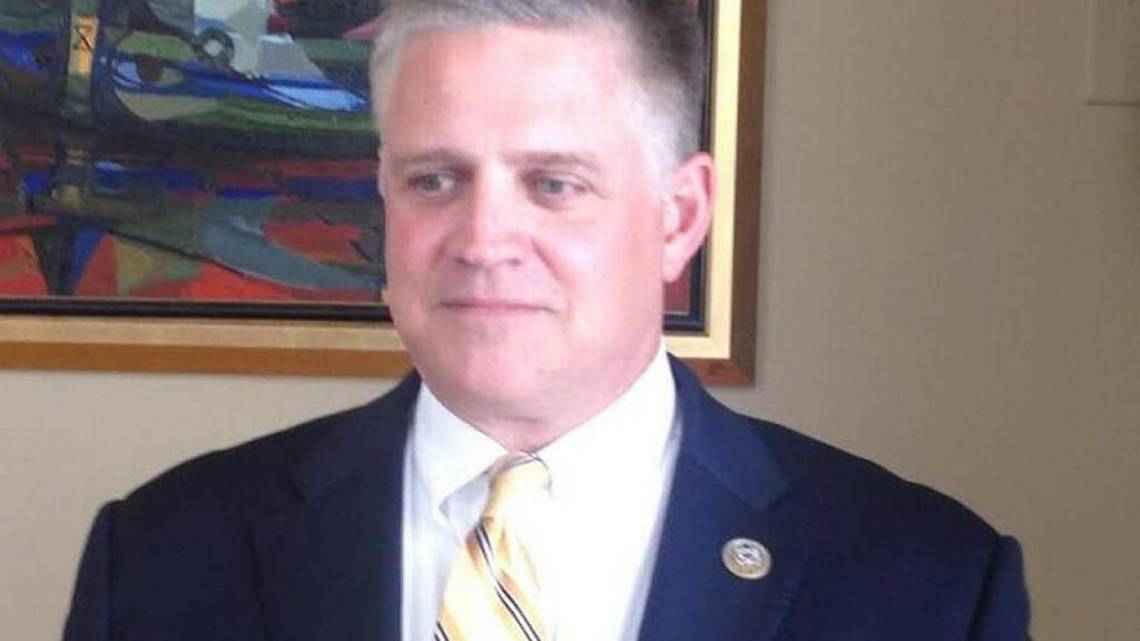 U.S. Rep. Drew Ferguson at the Greater Columbus Chamber of Commerce on April 19, 2017, in Columbus, Ga. Photo by Ben Wright.
The American Civil Liberties Union of Georgia sent a letter "threatening legal action" to U.S. Rep. Drew Ferguson, R-West Point, after the group says he illegally blocked people from commenting on his official Facebook page and deleted their posts, according to a release.
Ferguson represents Georgia's 3rd Congressional District, which comprises a small part of north Columbus, as well as Harris County, Thomaston, LaGrange, West Point, Carrollton and other cities in east Georgia.
Ferguson responded to the letter acknowledging that some accounts had been blocked "inadvertently" and said the situation had been remedied by staff members and access had been restored. "It is never my intention to silence the voices of my constituents, and I appreciate you alerting me to this issue," he wrote in the letter.
The ACLU is also threatening legal action against two sheriffs and a police department, and sent letters to the Habersham County Sheriff's Office, Worth County Sheriff's Office, Henry County Police Department and to Ferguson.
"Our democracy thrives when people can freely criticize elected officials — including yourself — so that the people you answer to can best determine whether you should remain in office," reads the letter to Ferguson, which was obtained by the Ledger-Enquirer. "The American Civil Liberties Union of Georgia (ACLU-GA) writes this letter to address your office's apparent attempt to silence your own constituents in violation of the First Amendment to the United States Constitution."
The ACLU argues that Ferguson's Facebook page counts as a "limited public forum," and that Ferguson is legally prohibited from deleting comments or blocking viewers from his page.
It points to one constituent who says her comments were deleted and her ability to post on the page blocked, as well as another constituent who said he had been blocked from the page.
According to the letter, the woman was told by Ferguson's communication director that she had not been blocked, but is still unable to post on the page.
"It is unconstitutional for your office, a governmental entity, to silence the voices of those with whom you disagree. Because your government Facebook page has been opened for any member of the public to post comments, it is considered a "limited public forum" under the law regardless of how your office might choose to characterize it," the ACLU wrote in the letter.
In his response, Ferguson wrote that government-maintained social media profiles can indeed count as limited public forums, but held that restrictions could still be imposed as long as the limitations were "viewpoint neutral" and "reasonable in light of the purpose served by the forum."
Ferguson wrote that he had "established a social media policy that is viewpoint neutral and applies to all participants on my page without regard to party affiliation or political point of view."
Amy N. Timmerman, communications director for Rep. Ferguson, referred the Ledger-Enquirer to the social media guidelines published on the Congressman's Facebook page.
The guidelines describe the page as a "moderated online discussion site and not a public forum," and provide a list of forbidden comments, including profanity and vulgar language, commercial or campaign-related statements, posting identifiable information about another individual, spam and other stipulations.
ACLU of Georgia legal director Sean Young told the Ledger-Enquirer he welcomed the news that constituents' access rights had been restored, but said Ferguson's response still raised questions.
"How many other constituents were blocked, and how were they blocked?' he said. "He doesn't explain whether there are others that may have been blocked yet, inappropriately. How could these constituents be inadvertently blocked?"
Social media is still somewhat of a brave new world when it comes to first amendment protections, and there has been limited argument in the courts about what constitutes protected speech on a government Facebook page. Some recent efforts have been made, however.
"Though legal challenges to censorship on government social media sites are a relatively new phenomenon, at least one court has already found that targeted censorship on government Facebook pages open for public comment is unconstitutional," the ACLU wrote in its letter, citing a 2016 case in which a federal court held that a public official in Loudoun County, Va., could not block citizens from official Facebook pages because of their criticism
Other officials have become targets of similar allegations, including U.S. President Donald Trump, who was sued by the Knight First Amendment Institute over the summer for blocking users on Twitter. The non-profit journalism outfit ProPublica also found that nearly 1,300 accounts were being blocked by governors and federal agencies across the country. Some of the blocked accounts may be artificial bot accounts, ProPublica reported.
Photo by Ben Wright at Ledger-Enquirer.