Lawsuit: Georgia violating rights of deaf inmates
By Rhonda Cook | Atlanta Journal-Constitution | June 20, 2018
Prison was a silent, isolating place for Jerry Coen despite being locked up in a facility that housed 1,150 other inmates.
Deaf since birth and fluent only in American Sign Language, Coen had no way to learn the rules or to take part in programs that would help him once released.
At a disciplinary hearing for refusing to change bunks, Coen's hands were cuffed behind his back, leaving him unable to communicate. He ended up in a dark isolation cell where he missed meals because he didn't hear when food trays were dropped off and couldn't ask the officers, who didn't know sign language, to allow him to take a shower.
"When they put me in the hole, they tried to force me to read lips. I couldn't communicate," Coen told The Atlanta Journal-Constitution through an interpreter.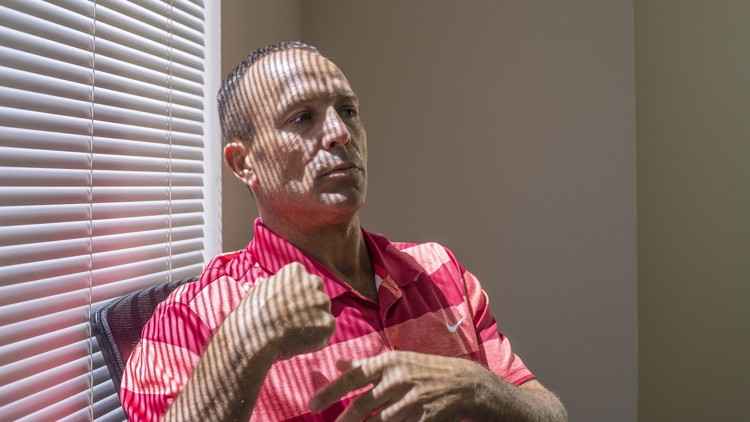 06/18/2018 — Atlanta, GA - Jerry T. Coen speaks about his time in prison at the American Civil Liberties Union Atlanta office, Monday, June 18, 2018. Coen was born deaf. He recently spent 10 years at a Georgia penitentiary. The national and state chapters of the ALCU will sue the Georgia Department of Corrections on behalf of Coen. Coen says he was unable to communicate while in prison because the staff rejected his plea for a translator. Coen says he missed out on learning while in prison because of his lack of assistance with communication. ALYSSA POINTER/

[email protected]
"The guards don't care," he said. "They figure if you're incarcerated, (you can) figure it out."
On Wednesday, the American Civil Liberties Union filed a lawsuit on behalf of Coen and 13 other deaf or hearing-impaired Georgia inmates in U.S. District Court in Macon. The suit against the Georgia Department of Corrections and the Department of Community Supervision says Georgia is violating the Americans with Disabilities Act and the U.S. Constitution's protections against cruel and unusual punishment.
"Deaf individuals deserve the same opportunities as other incarcerated individuals to access educational and other programs that can reduce their sentences, get out of taxpayer-funded prisons, and rebuild their lives," said Sean J. Young, Legal Director for the ACLU of Georgia.
Central State Prison
's failure to provide those opportunities violates the Eighth Amendment, he said.
Corrections officials said that fewer than 1,000 inmates in Georgia have some degree of hearing loss; they are housed at five of the state's 35 private and public institutions. Most of the impaired inmates have hearing loss in one ear and 69 cannot cannot hear at all. Corrections officials said inmates who use American Sign Language "have access to qualified interpreters.
The state Department of Corrections declined to comment specifically on the lawsuit.
The Department of Community Supervision also did not comment on the suit but said in a statement that their officers, who supervise 259,000 parolees and probationers, "are sensitive to the specific challenges and needs of each individual under supervision, including those with physical and/or mental impairments." The agency said some DCS officers are fluent in American Sign Language and the agency also uses outside interpreters.
The suit says deaf or hearing-impaired inmates, especially those who use only American Sign Language, are even more isolated in prison and are at risk of harm from other inmates, of being disciplined for breaking rules they don't understand and of losing parole opportunities because they can't take classes. The suit notes that many inmates who are deaf cannot read or speak English, that ASL Language is their only language.
"American Sign Language and English are entirely different languages, complete with their own grammar, syntax and structure," Talila Lewis, director of volunteers for Helping Educate to Advance the Rights of Deaf Communities, said.
The lawsuit said providing ASL-fluent inmates, parolees and probationers with documents written in English "is akin to giving documents in Japanese to a person who understands only English."
The suit said these inmates don't have access to prison, parole or probation rules, which subjects them "to arbitrary discipline, punishments, abuses and a quick return to prison. They are denied access to religious, educational and vocational programs that would make them eligible for earlier release, and better prepared for a successful return to society. As a result, they are incarcerated more frequently, remain in prison longer and return to prison faster," the complaint said.
The deaf inmates are also at a disadvantage because prisons don't have have visual alarms or bed-shaking devices to alert them to emergencies, cell block searches, meals or classes, the suit said. They cannot tell prison staff if they have medical or mental health issues or if they have been threatened by other inmates. The suit argued that prisons don't have video phones so inmates can stay in touch with family; in one instance an inmate
could not get paroled
because he had no way to contact relatives to ensure he had a place to live once released.
State corrections officials said inmates have access to TTY devices, hearing aids and video relay services that allow them to communicate with those outside prison walls.
Coen, 44, served 10 years for aggravated battery and false imprisonment and is now serving five years probation. He said he understands about 300 words written in English and is comfortable only in communicating through sign language. Coen said his probation officer will not use a video interpreting service available to the DCS and instead wants him to bring his mother to translate.
"I wanted to know the rules. I didn't want to go back to prison," Coen said. "Probation is scary. They can put you back in prison for anything."
The lawsuit from the American Civil Liberties Union was filed on behalf of 14 hearing-impaired Georgia inmates. Here is what two of them had to say, according to the legal documents:
Ricardo Harris, 38, is serving life for 2013 Cobb County murder. He filed a grievance last December, saying there was no American Sign Language interpreter to explain his diagnosis after a medical emergency at Augusta State Medical Prison or his prognosis and treatment. In a second grievance, Harris complained he missed work and attending required programs because the prison did not provide visual or tactile alarms for him and other deaf and hard-of-hearing inmates.
Jorae Smith, 22 is serving 20 years at Central State Prison for kidnapping and other crimes. He spent eight months in solitary confinement for his protection. "During this time, he was completely isolated from other inmates, meaning that he could not get any information from more literate deaf incarcerated people or others who might provide some assistance to deaf and hard-of-hearing people in the general population," the suit said. "As a Deaf person, the extreme isolation of solitary was magnified for Mr. J. Smith, who had virtually no sensory stimulation during this time."
Photo Caption: 06/18/2018 — Atlanta, GA - Jerry T. Coen poses for a portrait at the American Civil Liberties Union Atlanta office, Monday, June 18, 2018. Coen was born deaf. He recently spent 10 years at a Georgia penitentiary. The national and state chapters of the ALCU will sue the Georgia Department of Corrections on behalf of Coen. Coen says he was unable to communicate while in prison because the staff rejected his plea for a translator. Coen says he missed out on learning while in prison because of his lack of assistance with communication. ALYSSA POINTER/

[email protected]