"Black Georgians have had to fight hard for the right to vote and are entitled to vote with confidence that their ballots will be counted."- Andrea Young, ACLU of Georgia executive director

FOR IMMEDIATE RELEASE October 30, 2020
Media contact: Ana Maria Rosato [email protected]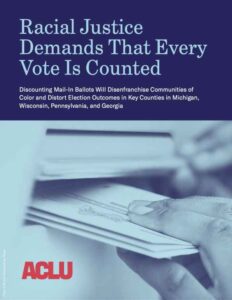 ATLANTA – The American Civil Liberties Union has released a report titled "Racial Justice Demands That Every Vote Is Counted," which identifies states and their counties where discounting mail-in ballots would disproportionately disenfranchise communities of color. The analysis looks at Michigan, Wisconsin, and Pennsylvania — three states widely acknowledged as critical to determining the outcome of the presidential race. The analysis also looks at Georgia, now considered a battleground state, where the gap in vote-by-mail usage by race is particularly large.
"Voters must be assured that regardless of whether they vote by mail, early in person, or on November 3rd, every vote counts, and every vote will be counted," said Andrea Young, executive director of the ACLU of Georgia."Black Georgians have had to fight hard for the right to vote and are entitled to vote with confidence that their ballots will be counted."
A nationwide representative tracking survey of likely voters conducted by YouGov4 finds that in Georgia the gaps in vote-method intent by race have never been as wide as in this cycle, with 39% of voters of color reporting intent to vote by mail at significantly higher rates than 22% of white voters report intent to vote by mail. ­­
The report identifies the top ten counties where disregarding or improperly treating mail-in ballots is likely to have the greatest impact on election outcomes and representation of voters of color and estimates a range on the size of the impact. Not fully counting the mail-in vote would mean disregarding between 32.9 percent in Gwinnett County and 43.3% in DeKalb County.
Ensuring that every vote — whether cast by mail, early, or in-person on Election Day — is counted must be the responsibility and priority of election officials everywhere.
Click here to download the report.
###