ATLANTA - Today, the ACLU of Georgia wrote to Captain Lewis Young of the Capitol Police Division in response to disturbing reports that capitol police may have unconstitutionally infringed on certain activists' freedom of speech on the sidewalks of Capitol Square.
"Last Wednesday, January 31, 2018, members of the Georgia Capitol Police Division dispersed about 20 activists who were holding signs and exercising their free speech rights on the public sidewalk in front of the ceremonial entrance to the Georgia State Capitol Building on Washington Street," the ACLU of Georgia wrote. 
"For centuries, sidewalks have been one of the traditional places where concerned citizens have exercised their First Amendment rights…. If these reports are true, then your officers have likely violated the First Amendment to the United States Constitution," the ACLU of Georgia letter continued.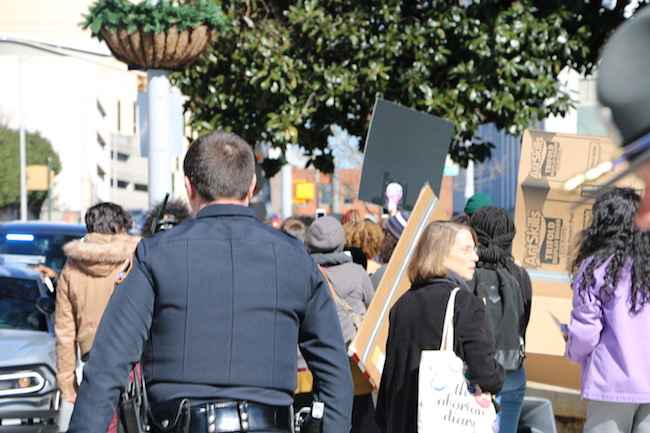 Capitol police officer following Woke Wednesday protesters leaving the capitol.
The activists are part of Woke Wednesdays, a gathering that is scheduled to take place every Wednesday from 12:30pm to 1:00pm at the Georgia State Capitol while the legislature is in session.
"Freedom of speech is essential to democracy," Stated Sean J. Young, Legal Director for the ACLU of Georgia. "We appreciate the capitol police for keeping the grounds of Capitol Square safe. However, the police must carry out their responsibilities while protecting our democracy and ensuring that all persons can exercise their rights under the First Amendment to the U.S. Constitution."